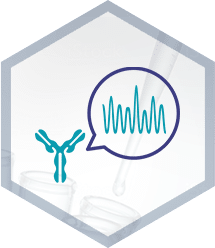 Customized services to characterize your antibody candidates
BIOTEM provides a wide range of high added value services covering all requirements for full antibody characterization and conservation. See below a short list. Feel free to contact us for tailor-made projects.

BIOTEM does not claim any intellectual properties nor any other rights on the developed antibodies.
Solutions adapted to your specifications :
Securing biological materials

Assistance in filing patents

Liquid nitrogen storage

Antibody Rescue
1. Antibody Sequencing

BIOTEM offers services for sequencing variable and constant regions of antibodies from hybridomas or even purified antibodies ("de proteo" sequencing). Having the sequence of a monoclonal antibody allows:

Hybridoma rescue
Recombination and Redundancy analysis
Antibody Engineering (Humanization, Affinity maturation, Antibody formats, etc. )

2. Affinity Determination

BIOTEM offers different strategies for affinity determination, including the "bio-layer interferometry" technique (BLItz® System, PALL FortéBio or the BiacoreTM). The determination of kD , kon, koff is useful during an antibody development program to identify candidates with the best properties. This data is also necessary in order to best characterize a candidate antibody for patent application.

3. Cell Bank

Master and Working Cell Bank
CNCM Hybridoma bailment (Collection Nationale de Cultures de Microorganismes): Cell lines registration for regulatory purposes requires several procedures and validations. As an expert of hybridoma handling, BIOTEM supports its customers in the recording process with specific institutions
Storage in liquid nitrogen
Hybridoma monitoring contract : recurring thawing thaw, amplification and viability quantification
Detection, removal of mycoplasma and Endotoxin-free treatment

4. Additional Services

Thanks to the know-how developed in immunotechnology since 1980 and the partnership with selected contractors, BIOTEM is able to propose a large spectrum of services enabling your objectives to be achieved.

Stability study
Epitope mapping
Specific Conjugation, learn more
Immunogenicity, Toxicity and Anatomopathology studies
Isotyping
Antibody Engineering
Quality controls
Custom studies
Non-exhaustive list

To access the document, please fill the form