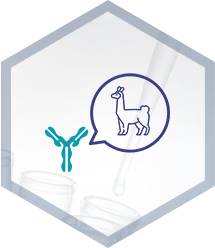 PHAGE DISPLAY: Llama Recombinant Antibody Development
An efficient and sophisticated technology, the phage display allows the generation of recombinant antibodies from naive or immune banks built from immunized animals or donors. In addition to providing the ability to test a large number of clones thanks to the high throughput screening and access to nucleotide sequences early in the process, this technology allows the development of monoclonal antibodies all types of species (llamas, camels or other camelids, etc.). Thanks to their small size (VHH or nanobody), the development of llama antibodies are tools of choice for therapeutic applications.

BIOTEM does not claim any intellectual properties nor any other rights on the developed antibodies.
The phage display is also a technology for the generation of high quality candidates for human and veterinary therapeutic applications.
Immune library from immunized animals or donors

High throughput screening system

Sequencing at early stage

Recombinant antibody production (several formats available)
1. Project Specifications

For each project, our team explores with the client the challenges of the project and defines together the specifications.

The target of interest : membrane protein, peptide, small molecule, post-translational modifications, etc.
Therapeutic Applications
Specifications : Available material, specificity, deadlines, etc.

Considering these multiple parameters, BIOTEM proposes tailor-made strategies to meet the client's needs and guarantee the success of the project.

2. Immunization

Depending on the client's specifications, BIOTEM has a wide range of proven immunization strategies to obtain high affinity and specificity antibodies. Specific methods are developed to ensure that the appropriate immune response is achieved. At the end of this phase BIOTEM will be able to offer a contract with guaranteed results. The client will also have the possibility to test the sera in his application.

Protein Immunization : From the production of the recombinant protein (transient transfection in CHO) to its preparation for immunization.
Peptide Immunization : Immunization with peptides is a relevant strategy for the generation of antibodies directed against selected epitopes. This approach also reduces the need for sophisticated protein preparations for immunization.
Small Molecule Immunization
Non-exhaustive list

3. Library & Phage Display

Unlike naive or synthetic libraries, BIOTEM proposes the construction of an immune library, in scFv format, focused on the target of interest combined with high throughput screening (or bio-panning) by phage display. This optimizes the chances of success in obtaining high affinity and high specificity antibodies.

Selection of a large number of candidates
Optimized screening with different stringency conditions (direct, competitive, subtractive, etc.)
Immediate access to sequences(single clones - redundancy analysis)
Production, Purification and Characterization of candidates (reactivity, affinity, etc.)

At the end of this phase the client will have the opportunity to test and select the best candidates for the reformatting phase in full Ig format or other formats.

Reformatting

& Engineering

4. Reformatting

This step allows the transition from scFv or VHH to full immunoglobulin format (or orther formats : scFv-Fc, etc.) thanks to a fully integrated platform for the production of recombinant antibodies in mammalian cells (CHO). Learn more

Several Isotypes
Sequence Optimization
Antibody Engineering (Isotype, mutations, Fc-fusion protein, Bispecific antibodies, Fab, etc.)
Variants (Chimerization, humanization, etc.)
Production & Purification (pilot study).

The CLIENT will decide which candidates to produce in large scales.

Production &

Purification

5. Production & purification

Large scale productions are available with our CHO cell Platform. Learn more

From milligram to several grams
Low endotoxin Conditions (< 10 EU/mg ; even < 1 EU/mg)
Serum free System
Quality Control (Concentration, purity, affinity, aggregation, stability, etc.).


TO ACCESS THE DOCUMENT, FILL THE FORM