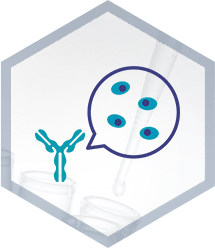 Antibody Production & Purification from Hybridomas
BIOTEM has large scale capabilities for antibody production and purification from hybridomas and sequences.
Different methods are recommended depending on the quantity required, the applications and the properties of the hybridoma clones (productivity, stability, isotype, etc.).
BIOTEM can propose tailor-made solutions to successfully complete each project.

BIOTEM does not claim any intellectual properties nor any other rights on the developed antibodies.
Small & Large scale production: From milligram to several grams

Optimized System : High yield and purity

« Low Bovine IgG » and « Low Endotoxin » conditions

Quality Control & Antibody Characterization
1. In vitro production

BIOTEM offers different solutions for the production and purification of antibodies, from pilot batch to large-scale. Low Bovine IgG and Low Endotoxin (< 10 EU/mg ; even < 1 EU/mg) production conditions can also be offered. Some preliminary studies can be performed in order to determine the most optimal protocol(s) in terms of yield and purity.

Culture in Flask : For small production and research applications (1 to 10 mg).
HYPERFlask® (Corning®) & CELLine™ (Wheaton®): Culture in high density for development program and pre-industrialization (10 mg to 1 g).
Hollow Fiber Bioractor : Culture in high density for industrialization (> 1 g).

In vivo

Production (ascite)

2. In vivo Production (ascite)

Although increasingly replaced by

in vitro

processes,

in vivo

production is sometimes continued for production efficiency, stability and aggregation reduction of purified immunoglobulins. BIOTEM has a mouse farm for

in vivo

production in ascitic fluid (from

nude

and BALB/c mice). This production system remains more reliable and efficient for some clones, with high yields.

Information: This production system is increasingly restricted and requires documented justification for each request. The CLIENT is now strongly advised to move towards in vitro production studies.

3. Purification

Depending on the physicochemical characteristics of the antibody, the isotype and the origin (species, matrix, etc.), different purification strategies can be implemented. Our know-how and several proprietary protocols enable us to complete successfully the most difficult purifications (IgM, double isotype...).

Affinity Chromatography : Protein A, G, A/G, L, peptides or proteins, etc.
Ion exchange or Size exclusion chromatography
Précipitation (several methods)
Purification Antibody
Non-exhaustive list

TO ACCESS THE DOCUMENT, FILL THE FORM