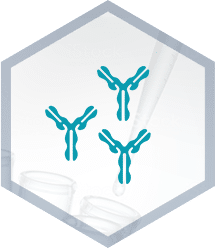 Polyclonal Antibodies: Several species available
Developing polyclonal antibodies is a convenient and versatile approach for the detection of target antigens. Obtaining a quality polyclonal serum that meets all specifications (application, specificity, cross-reaction, etc.) requires the implementation of a specific protocol.
BIOTEM offers customized protocols according to the client's specifications. The company implements high quality production for a guaranteed result.

BIOTEM does not claim any intellectual properties nor any other rights on the developed antibodies.
Build your own project:
Custom Protocols (injections, bleeds, etc.)

Several Species: Rabbits, rats, mice, goat, guinea pig, chicken, etc.

Immune Response Monitoring

Serum and/or Purified Antibody
1. Project Specifications

For each project, our team explores with the client the challenges of the project and defines together the specifications.

The target of interest: membrane protein, peptide, small molecule, post-translational modifications, etc.
Applications: ELISA, WB, FACS, IF, IHC, IP, HCP analysis (Host Cell Protein), functional tests, diagnostic application, etc.
Specifications: Available material, specificity, deadlines, etc.

Considering these multiple parameters, BIOTEM proposes tailor-made strategies to meet the client's needs and guarantee the success of the project.

2. Immunogen Preparation

Depending on the type of immunogen (cellular antigen, protein, peptide, nucleic acid, chemical molecule, etc.), BIOTEM offers specific design and preparation strategies.

Proteins: If the purified protein is not available, BIOTEM can assist the client in the production of recombinant proteins (transient transfection in CHO).
Peptides: BIOTEM has the experience and know-how to optimally integrate all the parameters of immunogenic peptide design.
Cellular antigens: Cells, viruses, bacteria, etc.
Other: Chemical molecules (haptens), lipids, nucleic acids, etc.

Immunization

Several species

3. Immunization Several species

BIOTEM has developed standardized protocols for rabbits that can be modified according to the client's specifications (duration of immunization, number and frequency of injections, co-immunization...). BIOTEM also offers a wide choice of animal species (rabbits, guinea pigs, goats, mice, rats, etc.). During the program, the client will have the opportunity to test the intermediate biological material in order to adjust the protocol if necessary.

4. Purification

According to request, BIOTEM has several purification systems. Before sending the material, strict quality controls are carried out.

Protein A / Protein G / Protein L Chromatography Purification
Chromatography Purification against the antigen (protein / peptide)
Differential Purification (phospho specific, other post-translational modification, etc.)

To access the document, please fill the form