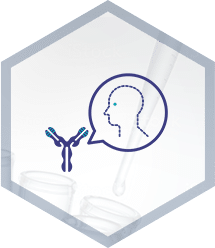 Humanized Antibody Generation
Humanization by CDR-grafting consists in transferring parental complementarity determining regions (CDR) into human framework (FR) regions. Parental antibody specificity and affinity are conserved thanks to the preservation of residues implicated in antigen binding. This technology aims at reducing antibody immunogenicity in humans by eliminating xenogeneic residues not involved in antigen recognition.
Humanized antibodies constitute the majority of today's approved therapeutic antibodies.
BIOTEM uses a validated and modernized version of the classical CDR-grafting technology based on Human germline sequences. By using them, instead of mature human immunoglobulin sequences, antibody tolerance in humans is reinforced.

BIOTEM does not claim any intellectual properties nor any other rights on the developed antibodies.
Modernized CDR-grafting using human germline sequences

Preserved parental affinity and specificity

Improved antibody drugability and manufacturability

Starting from your parental antibody or from scratch
1. Chimerization

The first step of antibody humanization consists in the development of a chimeric antibody. This antibody is composed of parental variable regions associated with suitable human constant regions. The choice of human constant regions is critically important since those regions may support biological functions required for optimal therapeutic activity.

Rigorous validations are performed by BIOTEM ensuring that the selected constant regions do not affect the overall structure of the paratope and are not degrading antibody affinity. Learn more

2. In silico Humanization

Bioinformatic Analysis, 3D structure and parental antibody analysis

Advanced strategies based on primary sequence analysis and 3D structure modeling are implemented to select the best human frameworks. In addition, BIOTEM uses exclusively human frameworks based on germline sequences in order to achieve the highest degree of humanization with the lowest immunogenicity.

CDR Grafting

Humanization by CDR-grafting consists in the combination of parental critical residues for antigen binding with human germline framework regions by molecular biology.

Sequence Optimization

A global sequence optimization strategy is implemented to improve the physico-chemical properties, manufacturability and drugability of antibody candidates.

3. Humanized variants

BIOTEM provides the production of recombinant antibodies by transient transfection into CHO cells. (Learn more)

Pilote production and purification
Low endotoxin Conditions (< 10 EU/mg ; even < 1 EU/mg)
Serum free System
Customized construction (Isotype, Mutations, Fc-Fusion protein, bispecific antibody, Fab)

A biophysical characterization of the variants can be proposed in order to select the best candidate:

Affinity Determination (concentration,purify, affinity)
Characterization of soluble aggregation (SEC-HPLC)
Characterization of thermo stability (DSC)
Non exhaustive list

4. Large Scale Production

Large scale productions are available with our CHO cell Platform. (Learn more)

From milligram to several grams.
Low endotoxin Conditions (< 10 EU/mg ; even < 1 EU/mg)
Serum free System
Antibody Engineering
Quality Control (concentration, purity, affinity, aggregation, stability, etc.)


TO ACCESS THE DOCUMENT, FILL THE FORM