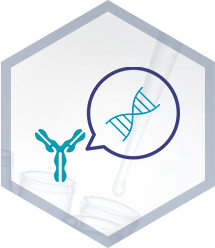 Recombinant Antibody and Protein Production (CHO)
The Chinese Hamster Ovary (CHO) transient gene expression technique is a widely used method to quickly and efficiently produce recombinant antibody candidates. This is particularly important when the post-translational modifications characteristic and proper protein folding are required.
This platform is also suitable for the production of recombinant proteins that can be used as immunogens or screening antigens.

BIOTEM does not claim any intellectual properties nor any other rights on the developed antibodies.
CHO : Universal cell line

High yield (From 50 to 300 mg / L)

Rapid: Only 2 weeks from transfection to supernatant harvest

From milligram to several grams.

Low endotoxin Conditions (< 10 EU/mg ; even < 1 EU/mg)

Serum free System

Several species, Isotypes and Antibody engineering
1. Sequence & Optimization

Requirements :

Codon Optimization :

cDNA optimization for expression in mammalian cells (CHO)

2. Gene Synthesis & Cloning

Gene synthesis and subcloning in pre-established expression vectors, as required :

Primers are already available for most species and isotypes.
BIOTEM has expression vectors adapted to standard antibodies; hence a reduction in delays.
Alternatively, we can implement your choice of heavy chain whose constant domains will be inserted after the variable region. A pilot production will be carried out to determine the yield and quality of production.

3. Transient Transfection

Transient Transfection & Culture :

DNA preparation and optimized transfection protocol.
Use of a proprietary vector and cell system generating high antibody titers.
Use of specific media free of animal components, and optimized culture with low endotoxin contamination (< 10 EU/mg; even < 1 EU/mg).
Small and large scale production.

4. Antibody Purification

Purification of antibodies :

Optimized affinity chromatography for each antibody - fully controlled sterile procedure.

Quality control and antibody characterization :

Spectrophotometric analysis
Electrophoresis on polyacrylamide gel SDS-PAGE under reducing and non-reducing conditions.
Detection of bacterial endotoxins by kinetic colorimetry (LAL Test).
Chromatographic analysis by size exclusion.
Size Exclusion Chromatography SEC-HPLC: low percentage of aggregation observed (less than 5% aggregates and up to 96% monomers).

Non-exhaustive list Learn more

Production &

Purification

5. Production & purification

Large scale productions are available with our CHO cell Platform.

From milligram to several grams
Low endotoxin Conditions (< 10 EU/mg ; < 1 EU/mg)
Serum free System
Antibody Engineering (Isotype, mutations, Fc-fusion protein, Bispecific antibodies, Fab, etc.)
Variants (Chimerization, humanization, etc.)
Quality Control (Concentration, purity, affinity, aggregation, stability, etc.).

Pour accéder au document, veuillez remplir le formulaire