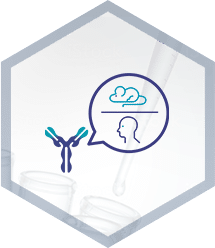 Antibody Chimerization
Chimeric antibodies are antibodies combining parental antibody variable regions with any acceptor constant region. Thanks to the domain organization of antibodies, chimerization is straightforward and does not alter antibody affinity or specificity. The combination of rodent variable domains with human constant domains is the most widespread, however, we can combine your variable domains with constant domains of diverse species.
Applications
Therapeutic : Antibody chimerization is a preliminary step before antibody humanization in order to associate biological function to parental antibody and to decrease its immunogenicity. Alternatively, chimeric antibodies can be employed for therapeutic purposes in particular diseases (e.g. for immunocompromised patients) or under certain conditions (variable domain with high GI).
Diagnostic : Chimeric antibodies are the best alternative to serum, calibrators and positive controls in diagnostics assays. They are particularly suitable as they can be produced in unlimited quantities and homogeneous (preservation of antibody specificity and affinity.

BIOTEM does not claim any intellectual properties nor any other rights on the developed antibodies.
Straightforward process

Donor or acceptor domains from species of your choice

Preserved parental affinity and specificity

Starting from your parental antibody or from scratch
Parental Antibody

Development

1. Parental Antibody Development

Depending on the stage of your project, BIOTEM proposes to take care of :

Alternatively, chimerization can be implemented from any parental antibody sequences

2. Chimerization

Chimeric Antibody Design :

cDNA optimization for expression in mammalian cells (CHO)
Constant domain selection (specie and isotype)
Synthesis of the sequences coding for the VH and VL variable domains
Cloning of the sequences coding for the VH and VL variable domains in two expression vectors
Sequencing and validation of the expression vectors

Production (CHO cell Platform)

Pilote production and purification
Low endotoxin Conditions (< 10 EU/mg ; even < 1 EU/mg)
Serum free System
Custom construction (Isotype, Mutations, Fc-Fusion protein, bispecific antibody, Fab, etc.)

Antibody Characterization

Reactivity by ELISA
Affinity Determination
Characterization of soluble aggregation (SEC-HPLC)
Characterization of thermo stability (DSC)
Non-exhaustive list

3. Large Scale Production

Large scale productions are available with our CHO cell Platform. (Learn more)

From milligram to several grams.
Low endotoxin Conditions (< 10 EU/mg ; even < 1 EU/mg)
Serum free System
Antibody Engineering
Quality Control (concentration, purity, affinity, aggregation, stability, etc.)

TO ACCESS THE DOCUMENT, FILL THE FORM