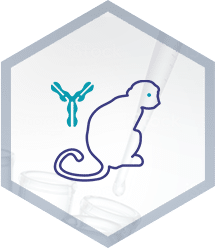 Ultimate Humanization® : New Generation of Therapeutic Antibodies
By combining the best of existing in vivo and in vitro technologies, the Ultimate Humanization® technology allows the generation of lead-drug antibodies with high affinity, low predicted cross-reactivity in humans ("off-target recognition") and outstanding low immunogenicity. As a result, toxicity risks and therapeutic effects are optimized early during therapeutic antibody development which positively contributes to preclinical and clinical success.
The Germinality Index (GI) quantifies the identity of an antibody variable regions with its most homologous human germinal sequences. Human antibodies encoded by germline genes (IgM, GI = 100%) form the true immunological self and are usually perfectly tolerated. Mature human antibodies (IgG) underwent affinity maturation, leading to antibodies with higher affinity and specificity exhibiting a GI comprised between 88 and 96 %.
During antibody engineering non-germline mutations may be introduced to optimize antibody sequence, thereby lowering antibody GI. This is a potential risk since it has been observed that engineered antibodies with low GI (< 88 %) are often associated with severe side effects. In order to circumvent such tolerance issues, BIOTEM guarantees a minimum GI of 92% (typically>95 %) while retaining parental affinity.

BIOTEM does not claim any intellectual properties nor any other rights on the developed antibodies.
BIOTEM Ultimate Humanization® Platform takes advantage of:
Non-Human Primate (NHP) Immunization: Reduced toxicity & Cross-reactivity

Hyper-Immune Library: High Affinity & Specificity
Phage Display Screening: High throughput screening

Antibody Germinalization: Guaranteed Germinality Index (GI > 92 %)

Sequence Optimization: Improvement of drugability & manufacturability
1. Project specifications

For each project, our team explores with the client the challenges of the project and defines the specifications together.

The target of interest: membrane protein, peptide, small molecule, post-translational modifications, etc.
Therapeutic Applications

Taking into account these multiple parameters, BIOTEM proposes tailor-made strategies to meet the client's needs and guarantee the success of the project.

2. Immunization

Active immunization of outbred NHPs elicits strong and natural immune responses compared to inbred or transgenic animals in which the immune system is often impaired. Specific NHP immunization strategies allow generating immune responses strongly focused on the therapeutic targets and not against NHP self-antigens (thanks to well-known tolerance mechanisms). Since NHP and human proteins are highly homologous (>95% identity on average), the risk of cross-reactivity between NHP antibodies and human antigens is very low.

3. Library & Phage Display

Unlike naive or synthetic libraries, BIOTEM proposes the construction of an immune library, in scFv format, focused on the target of interest combined with high throughput screening (or bio-panning) by phage display. This optimizes the chances of success in obtaining high affinity and high specificity antibodies.

Selection of a large number of scFv candidates (VH+VL only)
Optimized screening with different stringency conditions (direct, competitive, subtractive, etc.)
Immediate access to sequences (single clones - redundancy analysis)
Production, Purification and Characterization of candidates (reactivity, affinity, etc.).

At the end of this phase the client will have the opportunity to test the scFv and select the best candidates for the reformatting phase in full Ig format (full Ig) or other formats.

Hence, the best candidates are identified thanks to:

The Germinality Index
Antibody affinity
Biological activity
Biophysical characterization
Expression yield

Germinalization &

optimization

4. Germinalization & optimization

Antibody Germinalization

Unlike germinalization of non-NHP antibodies, BIOTEM Ultimate Humanization® technology allows FR and CDR germinalization. Therapeutic antibodies generated through this technology exhibit therefore exceptionally high GI (>95%) while retaining their parental affinity and specificity. Most notably, extensive humanization is accomplished through germinalisation of CDR regions which are often predicted to be highly immunogenic but essential for antigen recognition.

Sequence Optimization

To potentiate drugability and anticipate antibody manufacturing, BIOTEM services include state of the art sequence optimization :

Improvement of physiochemical properties: Specific amino acid substitutions will be proposed in order to avoid post-translational modifications susceptible to affect antibody production, stability, solubility, aggregation, heterogeneity etc.
Antibody maturation: Depending on specifications, in vitro affinity maturation and/or optimization of biological functions will be proposed.
Codon optimization: Antibody coding sequence will be optimized to increase expression level in client's expression system.

Production &

Purification

5. Production & purification

This step allows the transition from scFv to full immunoglobulin format thanks to a fully integrated platform for the production of recombinant antibodies in mammalian cells (CHO). Learn more 

From milligram to several grams
Low endotoxin Conditions (< 10 EU/mg ; even < 1 EU/mg)
Serum free System</strong
Antibody Engineering (Isotype, mutations, Fc-fusion protein, Bispecific antibodies, Fab, etc.)  
Variants (Chimerization, humanization, etc.)
Quality Control (concentration, purity, affinity, aggregation SEC-HPLC, stability DSC, etc.)


TO ACCESS THE DOCUMENT, FILL THE FORM