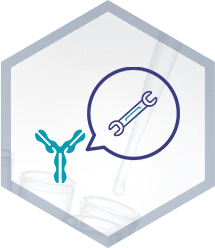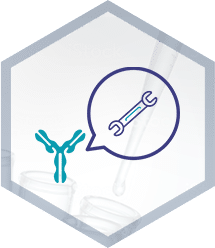 Antibody Modification: Our custom solutions
Many antibody modifications are possible and provide effective tools in multiple applications. BIOTEM can assist you setting up your unique protocol, depending on your requirement, either using described techniques or combining strategies, etc.
A feasibility study can be implemented to highlight the best strategy.

BIOTEM does not claim any intellectual properties nor any other rights on the developed antibodies.
Antibody modifications for :
Generate effective detection tools

Develop new formats

Optimize features and performance
3. Antibody Engineering

After antibody sequencing (see Antibody Characterization), BIOTEM offers its antibody engineering services to optimize the properties of your binder candidates.

Affinity Maturation
De-immunization : to limit the immunogenicity of antibodies (ADCC, CDC, etc.)
Sequence Optimization : to improve the manufacturability. The optimized candidates are then produced as recombinant antibody thanks to the CHO platform(More information).

1. Conjugation

Primary antibody conjugations allow direct use as detection tools and are one of the main active elements in immunoassays (More information), immunofluorescence, flow cytometry and many other techniques. Based on the conjugate, our team carries out a feasibility study with determination of the ratios in order to carry out the conjugation under the best conditions.

Biotin
Enzyme (HRP, AP …)
Fluorochrome (FITC, ALEXA, R-Phycoerythrine)

2. Fragmentation

This modification allows working on smaller formats than full antibodies. BIOTEM has several enzymatic strategies according to the client's specifications. A feasibility study is carried out in order to select the best fragmentation conditions adapted to each antibody.

Papaïne(Fab fragment)
Pepsine (F(ab')2 fragment)
IgM

These antibody fragments are also possible as recombinant format via the CHO platform (Learn more).

To access the document, please fill the form