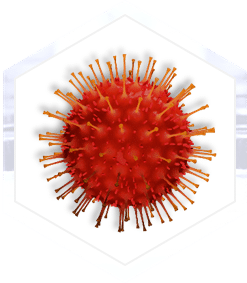 AmpliFlow® SARS-CoV-2: Rapid Test for the Genomic Detection of COVID-19
Designed in collaboration with a multidisciplinary team (CNRS-ENS Paris-Saclay and Bichat AP-HP Hospital), BIOTEM offers a rapid test for the detection of the virus responsible for COVID-19!
By combining 2 robust and proven technologies: RT-LAMP (reverse transcription loop-mediated isothermal amplification) with Lateral Flow Immunochromatography, the test offers the sensitivity and reliability with the ease and convenient result visualization of rapid strip tests (such as pregnancy tests). In addition, the device is easy to use, deployable from basic to more sophisticated equipment (robots for partial automation). The kit is compatible with several available sampling systems; however, to facilitate its implementation, it is supplied with specimen containers (sample buffer included) to optimize sample hydration and transfer to the laboratory, further avoiding any compatibility problems between the sampling and the analysis. Lastly the test is fully secure thanks to an ingenious closed system to avoid any risk of contamination of the working area, thus preventing the occurrence of false positives.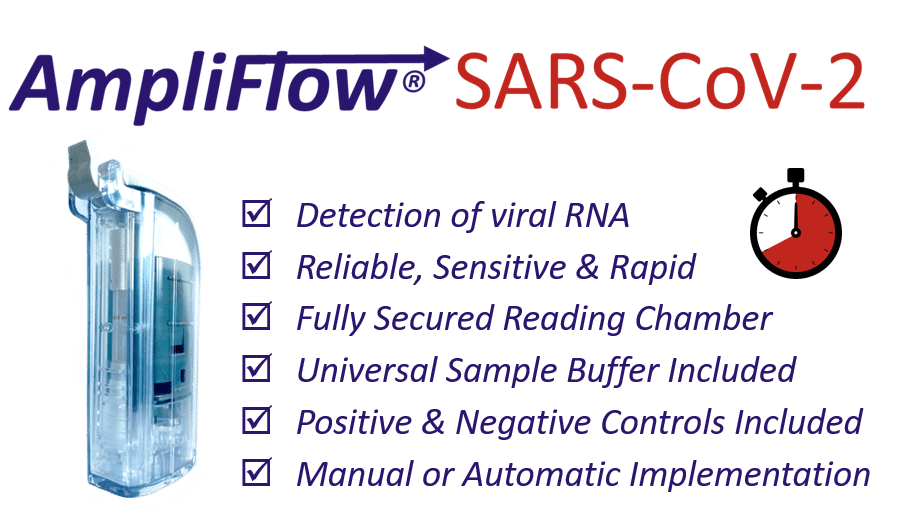 With AmpliFlow® SARS-CoV-2 obtain reliable results in
only 40 minutes!
Rapid & Secured
Results in only 40 minutes!

Fully secured reading chamber to avoid lab contamination

Simple & Smart
For manual or automatic use

Combination of molecular biology and immunochromatography lateral flow

Sensitive & Reliable
Validated by CNR and Tested by AP-HP

Reliability confirmed by a clinical study on a large number of samples!

Universal System
Compatible with several sampling systems

Sample Preparation Buffer INCLUDED, Positve & Negative controls INCLUDED

1. Virus Lysis

The kit is supplied with sampling tubes pre-filled with an adequate dilution medium for use with all types of swabs (not included). This avoids any compatibility problems between the sampling and analytical parts.
After sample collection, a first step of virus lysis will be performed using an optimized buffer. The lysis will thus allow the release of the genetic material of the virus (RNA) while maintaining an optimal sample quality for the test.
This step can be carried out manually using standard laboratory equipment; however, all the handling can be automated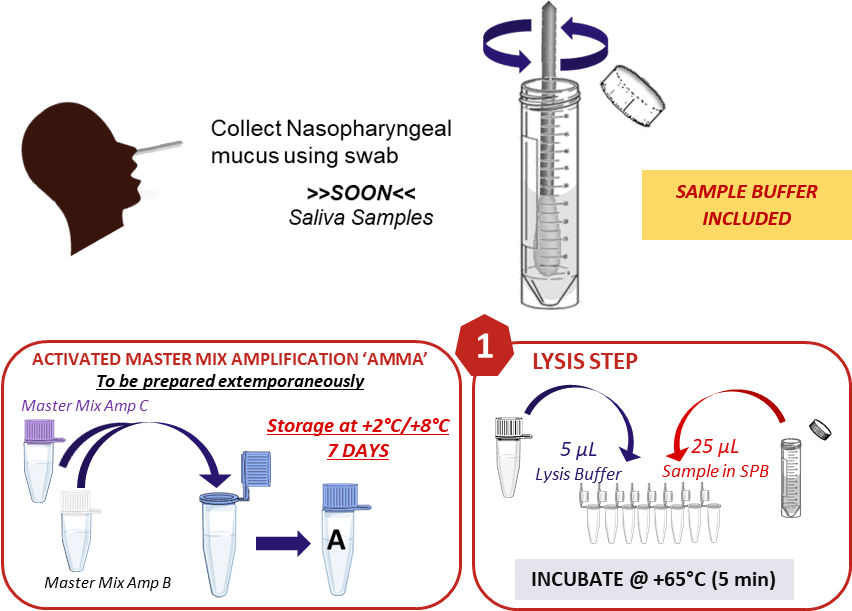 2. Amplification
After reverse transcription of the RNA into cDNA, amplification via LAMP (Loop-mediated isothermal amplification) technology at constant temperature using an optimized mix of 6 specific primers.
An extensive analysis of the primers used in the test shows its ability to recognize more than 5,000 known variants of SARS-CoV-2 and not recognize other coronavirus strains such as SARS, MERS, HCoV-229E, TGEB, PDCoV, PEDV, IBV, OC43, NL63 or HKU1.
In addition, a positive and negative control is included in the kit.
This step can be performed manually using standard laboratory equipment; however, all handling can be automated

3. Revelation by Lateral Flow

For each test, a single-use detection chamber containing a test strip is used to reveal the presence or absence of viral RNA. Thanks to this ingenious and closed system, the test can be carried out safely and avoids any risk of contamination of the laboratory and thus the occurrence of false positives.
Each blue microtube (amplicon) will be integrated into a cassette in which a vial of buffer is already in place. After closing the cassette, the cassette is inserted into the detection chamber. Closing the chamber by activating the handle will release the biologics and ensure migration onto the strip.
After 2-3 minutes of migration, a positive test will be revealed by the appearance of 2 bands, a negative test with 1 band.

Commercial kit AmpliFlow® SARS-CoV-2
The commercial kit AmpliFlow® SARS-CoV-2 based on nasopharyngeal samples is composed of 2 packages: Box A storage at room temperature and Box B at -20°C.
The kit will be provided with the material necessary to perform the tests. It can be used with routine laboratory equipment or adapted to automated systems.
The kit is also supplied with sample dilution buffer compatible with the most common swabs and a positive/negative control.
AmpliFlow® SARS-CoV-2 is available with the references below:
Cat. No.: BIO.056.24 (24 Tests)

Cat. No.: BIO.056.96 (

96 tests)
See Clinical Study Results (French only): click here
See In Silico Study Results: click here
>> SOON << AmpliFlow® SARS-CoV-2 with saliva samples
Contact us:
Email : info@biotem.fr
Tel : +33 (0)4 76 65 10 91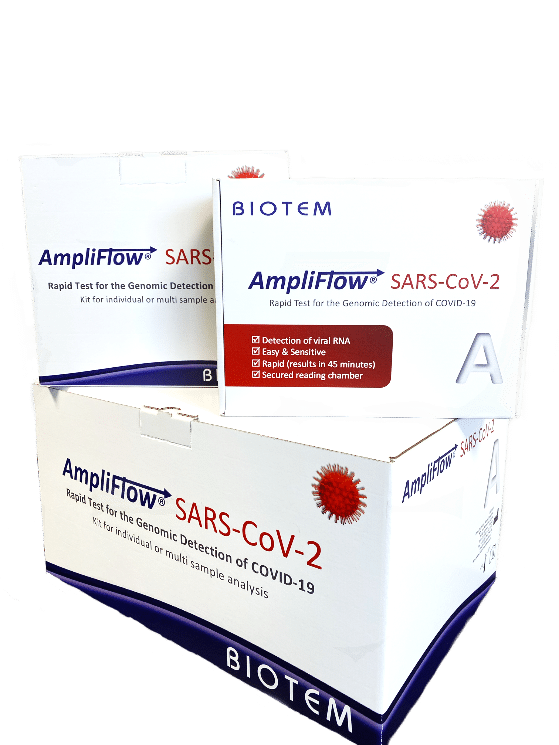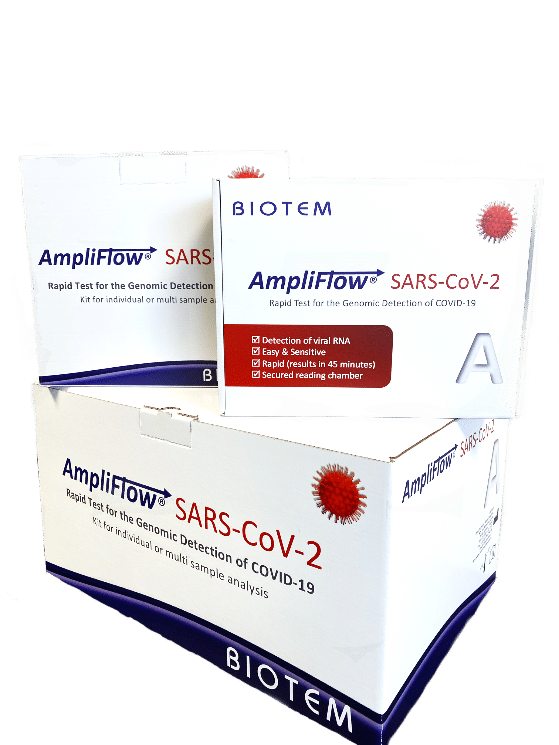 To access the document, fill the form